The Washington Post Contest
In 2010, Hoxwinder Hall was selected as a Top 10 Finalist in the Washington Post's "America's Next Great Cartoonist" contest. A week later, the public voted the strip a Top 5 Finalist. These are some of the judge's comments about the strip: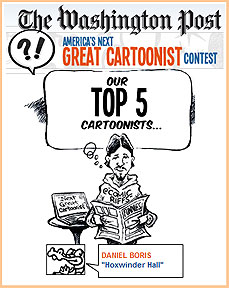 Stan Lee: "The gags are good and the concept of a kid and his big brother living with a wise-cracking baby alligator is a unique angle. I'm guessing that the alligator will be the mainstay of the strip. It should be, because that's what makes the strip unique."
Michael Cavna: "This strip bristles with promise. I'm particularly impressed with the pacing: The tight writing is sly and amusing without showing much strain. That alligator is immediately provocative, its look smartly rendered."
Amy Lago: "I love that the art is simple. The drawing style is attractive, if a tad nondescript. Good use of shading to direct the eye. Nice gag construction."
Richard Thompson: "The Sunday gag is well set up and drawn; I like the looseness of Byron's face and hair. The Silent Penultimate Panel is used nicely too, with the slight roll of Dozi's eyes and who can't warm to a tiny pet with a potential taste for kids?"
Gene Weingarten: "Some good gags, and I like the alligator with attitude."
Click this link to view the Washington Post's official contest site:
America's Next Great Cartoonist Contest